Manufacturer/Subcontractor
Manufacture of parts

by bar turning and machining

ISO 9001 - NF EN 9100 - NF EN 13485 - ISO 14001
For all industries
Manufacturer of

precision technical parts

ISO 9001 - NF EN 9100 - NF EN 13485 - ISO 14001
Machine tool capacities
from Ø 1 mm to Ø 130 mm

all types of metals
Our priority: your trust
Our commitment: your peace of mind
We act as a first-tier or second-tier subcontractor.
From Ø 0,04 to 2,79 inches in bars and up to Ø 5,12 inches on mandrel.
Manufacturer - Subcontractor
CNC Turning and
High Precision Machining
Specialized in CNC bar turning, in the heart of the Arve valley in Scionzier in Haute-Savoie, the Jean-Claude PATUREL company meets all your expectations in the manufacture of technical and mechanical parts in prototype, small and medium series, from Ø 0,04 to 2,79 inches in bars and up to Ø 5,12 in on mandrel.
Contribute to your success
By offering you flexibility, rigorous production, quality, responsiveness, service, meeting deadlines and our international ambition are all assets to guarantee your satisfaction and generate your confidence.
To meet the requirements and to the satisfaction of our customers, we invest in modern and efficient equipment.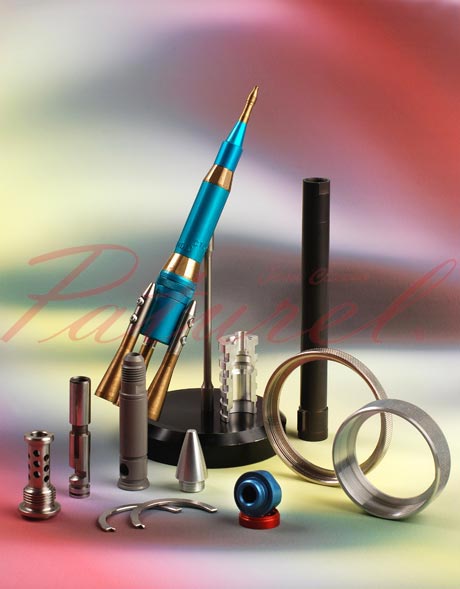 1889 - 2022:

133 years of customer satisfaction!
"From watchmaking to bar turning, the PATUREL DECOLLETAGE company has been above all a family business since 1889, over 5 generations from father to son. The slogan of the time "Our priority: your trust" has become the culture of the company. Culture transmitted as well as know-how."
From the factory of GABLES & PIVOTAGE for the watchmaking of our elders, the company is now specialized in bar turning and machining and has naturally turned to the market for very complex parts by equipping itself with high-performance equipment and meeting the needs of customers... Quality in +

Subcontracting
all industries
Consult us for your needs for turned parts
or machined parts from Ø 0,04 to 2,79 inches in bars
and up to Ø 5,12 inches on mandrel.