PATUREL DECOLLETAGE
The quality of our products

is our commitment

ISO 9001 - NF EN 9100 - NF EN 13485 - ISO 14001
TURNING MACHINING
from Ø 1 mm to Ø 130 mm

all types of metals
Quality at the heart of our production
Manufacturer of technical parts
all sectors of activity
Respecting the deadlines for our orders and the quality of our products are our priorities. These objectives and this policy could not exist without qualified and versatile personnel.
Certificates
ISO 9001:2015
NF EN 9100:2018 (Aeronautics)
NF EN 13485 :2016 (Medical)
ISO 14001:2015 (Environment)
Means
1 3D Measuring Machine,

1 MAHR Brand Contracer: MarSurf XC 2,

2 Measurement columns from 0 to 100 mm,

2 Columns Automatic measurement from 0 to 600 mm,

Standard touch digital micrometers from 0 to 100 mm,

Digital knife point micrometers from 0 to 55 mm,

Interdigital micrometers (Bowers and Sylvac) from 10 to 100 mm,

+ 3000 smooth pads every 0.01 from dia 0.40 to 20 mm,

Profile projectors,

Roughness gauge,

...
Advantages
GPAO: StraDivalto ERP Divalto (production management. All our means of control are computer-linked for editing the control report / monitoring of metrology),

GED: computer backup of scanned documents relating to products (plans, customer green light, material certificates, specifications, etc.),

CAD: TopSolid.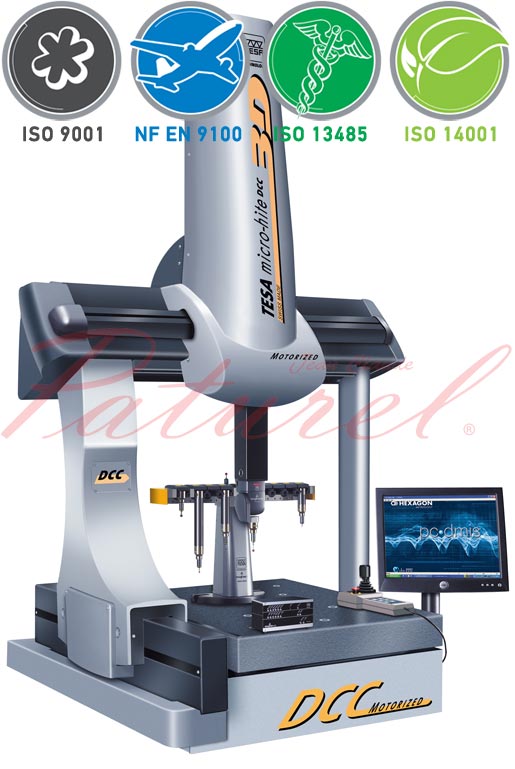 Subcontracting
all industries
Consult us for your needs for turned parts
or machined parts from Ø 0,04 to 2,79 inches in bars
and up to Ø 5,12 inches on mandrel.